With the generous support of our sponsors, Festival Latino continues to be an exceptional community event.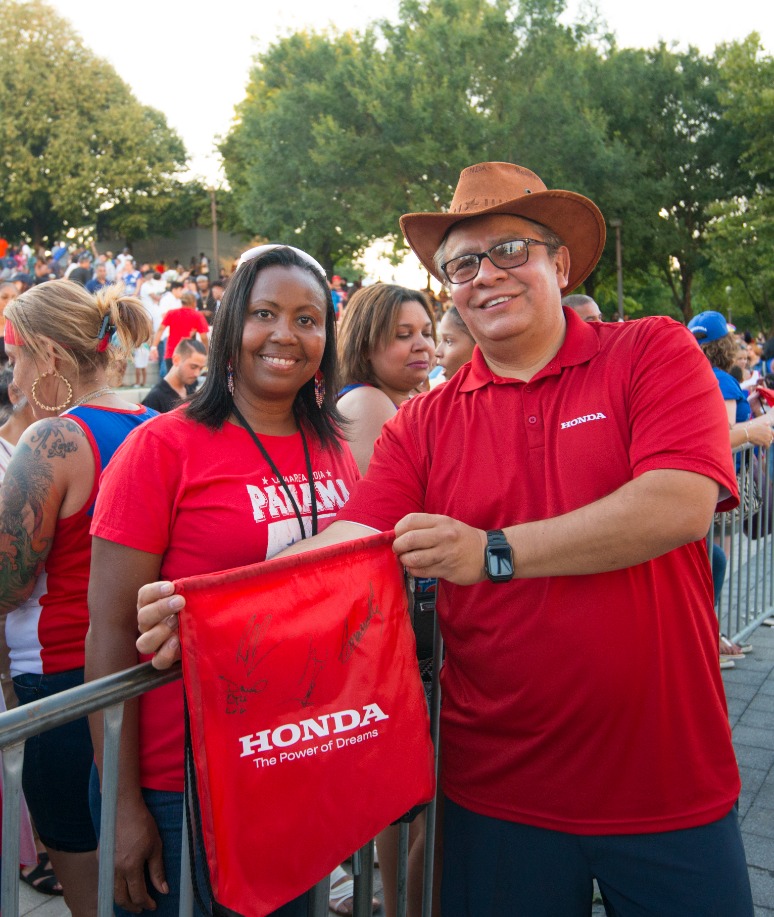 Become a Sponsor
Join us in celebrating Festival Latino, the largest Latin event in the state of Ohio! Presented by CAPA, Festival Latino 2023 marks the 26th anniversary of this free event that celebrates family and community with two days of children's activities, music, food, fashion, art, and dance from the heart of Latin America. More than 200,000 festival-goers turn out to downtown's Genoa Park to experience the rich sights, sounds, and tastes of the diverse Latino/Hispanic cultures.
To discuss Festival Latino sponsorship and strategic marketing alliances, please fill out the form below, or contact Emily Kilroy at ekilroy@capa.com.
Annual Sponsor Reports
2022 Festival Latino Recap
150,000 attendees!
60 volunteers donated more than 230 hours
32 generous sponsors
25th Festival Latino in Columbus
23 local leaders on the Steering Committee
20 unique food vendors
15 children's activities
14th year produced by CAPA
11 marketplace vendors
9 organizations in our Health + Wellness Area
9 community service organizations
8 musical acts on the Fiesta Stage
5 Ohio-based visual artists
3 Ohio-based folkloric dance groups
2 Salsa dancing workshops
2 DJs
1 special host
2020 Festival Latino Recap
Week-long virtual experience
281,000 virtual viewers
Food and dance demonstrations
Fashion and kids activity videos
Online access to key community health and wellness resources
Livestreamed Latin music for two days
More than 15 partners
6 generous sponsors
2019 Festival Latino Recap
175,000-200,000 attendees!
116 volunteers donated more than 370 hours
27 generous sponsors
25 children's activities
24 food vendors (15 local)
24th Festival Latino in Columbus
22 community leaders on the steering committee
14 marketplace vendors
11th year produced by CAPA
10 health and wellness community organizations
8 community service organizations
7 music acts (3 international, 4 local)
5 Ohio-based visual artists
4 Ohio-based folkloric dance groups
4 Salsa dancing workshops
2 Ohio-based authors
2 DJs
1 special host
2018 Festival Latino Recap
175,000 – 200,000 attendees!
120 volunteers donated more than 415 hours
29 generous sponsors
25 children's activities
27 food vendors (17 local)
19 community leaders on the Steering Committee
22nd Festival Latino in Columbus
14 marketplace vendors (6 local)
11 health & wellness community organizations
20th year produced by CAPA
8 community service organizations
7 music acts (5 international, 2 local)
5 Ohio-based visual artists
4 Ohio-based folkloric dance groups
4 Salsa dancing workshops
4 Ohio-based authors
2 DJs
2 Ohio-based folkloric dance groups
1 special host
2017 Festival Latino Recap
205,000 attendees!
112 volunteers donated more than 376 hours
40 children's activities
30 generous sponsors
24 food vendors (17 local)
22 Community leaders on the Steering Committee
21st Festival Latino in Columbus
14 marketplace vendors (6 local)
12 community services organizations
11 health & wellness community organizations
9th year produced by CAPA
8 music acts (4 international, 4 local)
6 Ohio-based visual artists
2 Ohio-based authors
2 DJ's
1 Ohio-based folkloric dance group
1 special host
2016 Festival Latino Recap
80,000 attendees!
55 volunteers donated more than 175 hours
40 children's activities
40 generous sponsors
29 food vendors
22 community leaders on the Steering Committee
20th Anniversary celebrating Festival Latino
14 marketplace vendors (6 local)
16 marketplace vendors
15 health & wellness community organizations
13 community service organizations
12 international and Ohio-based authors
9 music acts (4 international, 5 local)
8th year produced by CAPA
7 Ohio-based visual artists
2 DJ's
1 Ohio-based folkloric dance group
1 special host
2015 Festival Latino Recap
203,000 attendees!
175 volunteers donated more than 800 hours
40 children's activities
36 generous sponsors
26 food vendors
20 marketplace vendors
19 community leaders on the Steering Committee
19 health & wellness community organizations
19th year of Festival Latino
16 marketplace vendors
11 community service organizations
9 musical acts (4 international, 5 local)
7th year produced by CAPA
4 Ohio-based visual artists
2 Ohio-based folkloric dance groups
2 Ohio-based authors
1 Special host
1 Ohio Latina cultural fashion show
2014 Festival Latino Recap
150,000 attendees!
150 volunteers donated more than 750 hours
37 generous sponsors
40+ children's activities
30 food vendors
19 community leaders on the Steering Committee
8 community service organizations
17 health & wellness community organizations
11 marketplace vendors
7 musical acts (5 international, 5 local)
2 Ohio-based folkloric dance groups
7 Ohio-based visual artists &
5 Ohio-based authors
5 Columbus-based Latino photographers
1 special host
1 Ohio Latina Cultural Fashion Show
18th year of Festival Latino
6th year produced by CAPA
2013 Festival Latino Recap
120,000 attendees!
100 volunteers donated more than 450 hours
43 generous sponsors
40+ children's activities
28 food vendors
20 community leaders on the Steering Committee
15 community service organizations
15 marketplace vendors
10 musical acts (5 international, 5 local)
4 dance groups
5 visual artists & 2 authors
2012 Festival Latino Recap
75,000 attendees!
102 volunteers donated more than 438 hours
33 children's activities
28 generous sponsors
23 food vendors
20 community leaders on the Steering Committee
12 community service organizations
11 marketplace vendors
10 musical acts (6 international, 4 local)
4 dance groups
2 visual artists
2011 Festival Latino Recap
50,000 attendees!
200 volunteers donated more than 1,500 hours
33 generous sponsors
31 children's activities
28 food vendors
15 health & wellness community service organizations
12 marketplace vendors
10 local & international bands
6 local visual/abstract artists
5 local dance groups
5 local and international fashion designers
2010 Festival Latino Recap
35,000 attendees!
11 music acts
5 dance groups
12 marketplace vendors
18 food vendors
19 children's activities
13 community organizations
3 visual artists
31 generous sponsors
110 volunteers donated more than 2,000 hours
FESTIVAL LATINO 2022 SUPPORTED BY